Holiday is, for most of us, a time we do exactly the opposite of what we do the rest of the year: you see business womans not moving a single finger / tanning all days long on the beach, car-addicted dad hiking, geeks getting some sun 🙂 It actually make no sense since (i hope) we normally don't hate that much what we do year long but hey…
As part of the latter, i've decided to go paragliding since it actually makes no sense at all (ask my friends!). That was awesome/fantastic/breathtaking/mindblowing/blablabla… the point here is: my friend tool pictures of the land off and send them to me later in the day. And this is where GmailMan invites himself.
Here is a screenshot of the crime scene: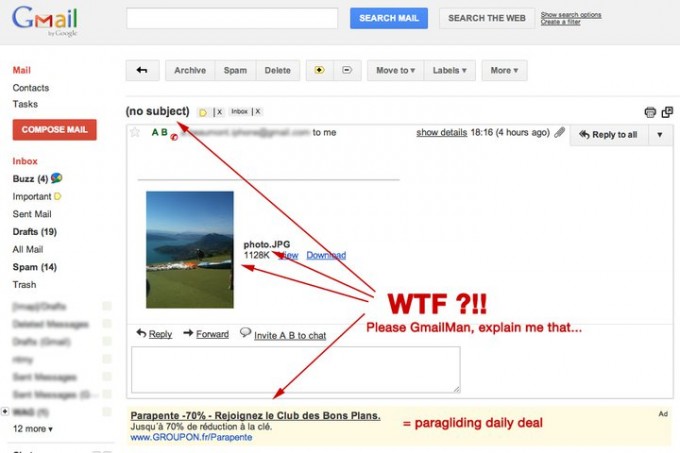 How can you actually explain me that? No subject, no body, no relevant picture name, … my friend is pure geek as me so his email is in no way related to some paragliding stuffs. Image recognition? There is nothing here on the picture itself any computer could recognize: it's just a few pixels flatten wing on the floor.
Paragliding is definitely not something i do everyday so my gmail inbox is not full of related keywords. First people told me "what about your navigation history or search?". If those were taken in account here, ads should be full of "position in NYC", "HTML5", or "mobile". Anyway, i've just search once for paragliding nearby and there is no Adsence banners on the spot website.
That should come from the image. But how?!
If still don't have the answer and please comment this blogpost if you have any idea but here is what i'm thinking about for now: exif metadatas. For those who don't know it, cameras stores exif metadatas anytime you take a picture, and iPhone has a lot to say this it's not just a camera: flash, orientation, gps location, elevation, iOS version (?!), … So if you just geocode those GPS coordinates, you can get some nice informations about what is popular around.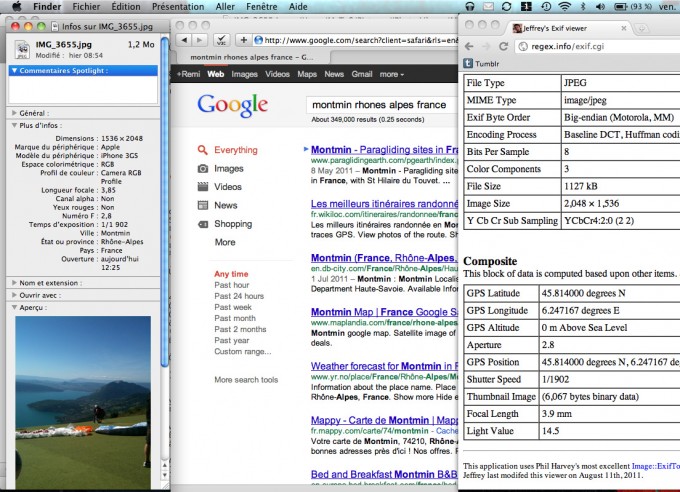 In image metadatas, OSX is giving town + province + country. If guess this is something iPhoto geocodes during import process based on GPS coords and adds in file metadatas too. Good chances that iPhoto is actually using Google Geocoding API to do so but this is something Google can easily do to reading my attachment metadatas. Once done, just look at what Google Search has to say when i ask town+province+country (here "Montmin, Rhones Alpes, France")?
Yeap, I'm feeling lucky says "Paragliding".
What do you think? Sounds like a pretty heavy process just to display an ad but taken in account that ads is #1 Google source of revenue, i guess it perhaps doesn't sounds that heavy for them…
Thoughts?
EDIT: seems like i'm not the only one asking myself: https://www.labnol.org/internet/email/does-google-read-gmail-email-attachments-for-adsense-ads/2438/